About Peter's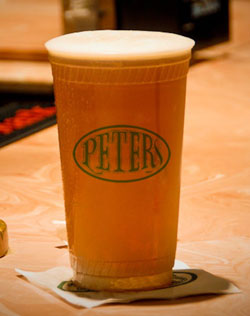 Peter and Nancy Kimos opened their doors on
December 4, 1974 at the original location on Calvert Street, then named Peter's Pub. Peter's Pub established its reputation for great burgers and cold beer long before the Inner Harbor was a tourist destination. In May 1987, Peter and Nancy moved the Pub to its current location where Peter's Pour House found its home and new name on Water Street. The business crowd followed Peter's a few blocks to its new location. It is there that Peter's Pour House originated the 32-ounce House Draft.
Peter's Pour House, affectionately known as Peter's, is the place the locals go for lunch, dinner and its signature
32-ounce House Drafts, served all day everyday. With its old school charm, Peter's welcomes locals and tourists alike. Surrounded by four hotels, Peter's has repeat customers from all over the country. They come to Baltimore for business or pleasure, but return to Peter's for its friendly atmosphere, unique menu and reasonable prices. Many come prepared with coolers to take home Jumbo Lump Crab Cakes, made by Peter himself, and Miss Hedy's Homemade Shrimp Salad.
Peter's Pour House is located a few blocks northeast of Oriole Park at Camden Yards, the Baltimore Ravens M&T Bank Stadium and the Baltimore Convention Center. All venues are within walking distance. Come dine from the family-friendly menu and in our seasonal Outdoor Café under the canopy.
Whether you come for lunch, dinner or a special celebration, Peter's professional staff is waiting to serve your dining needs. Come visit us on Water Street and experience what the locals have enjoyed since 1974. Some call our pub a Baltimore institution, but we just like to be called Peter's.
Cheers!
Details
Main Entrance on Water Street
No reservations needed – Casual Dining
Carryout orders taken by phone only – (410) 539-5818
Second Floor accessible via stairwell
Bathrooms located in basement via stairwell
Seasonal Outdoor Café under canopy
Second Floor Dining Room available for private parties
Child Booster Seats available
ATM available on First Floor
Visa, MasterCard, Discover and
American Express accepted
Maryland State Sales Tax applies
Groups of 5 or more - 20% Gratuity Charge will be added to your check
Maryland State Law requires interior premises to be non-smoking